Cambridge, UK. February 24th 2022: The multichannel audio interface is being used on numerous projects for artists across all genres, and Fragancia is delighted with the audio quality he is achieving.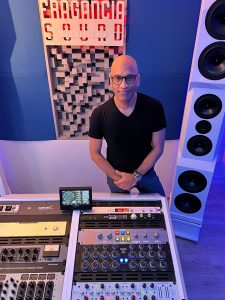 After a successful introduction to Prism Sound technology via a Titan multichannel audio interface, production and mastering engineer Julio 'Fragancia" Abreu is about to add two more Prism Sound units to his studio in the USA.
Originally from New York City where he studied music engineering at the Center For The Media Arts school, Fragancia initially pursued a career as a club DJ and became a prominent figure in the tri-state area club scene. This eventually led to a move into studio production and, after setting up his own studio, he became established as a recording and mix engineer before moving into mastering in the early 2000's.
Now based in Miami, Fragancia is currently one of the most in demand mastering engineers in the USA, particularly among Latin music artists. He has worked with some of the biggest names in the genre including Bad Bunny, Henry Santos and Don Omar, and has been nominated for numerous accolades and awards including a Latin Grammy, two Tally Television Awards and a Latin Billboard Award for Mastering, which he won in 2006.
"I had my eye on a Prism Sound converter quite a while before I actually bought one, Fragancia says. "I'd heard about them and knew many well-known mastering facilities were using Prism Sound Dream ADA-8XR and Dream AD-2s, but I didn't take the plunge until the company came out with the Titan. At that point I decided it was time to buy because 8 channels of great conversion at an excellent price point was a no brainer."
He adds that although he has used many good converters over the years, the Titan's channel count made it idea for the stem mastering projects he is increasingly tackling.
"It is definitely the unit for the job," he says. "The sound quality is insane. It is ultra-clear and when you clip the converters it handles very well – not like others that distort and crack in an unpleasant way."
Designed to offer high quality analogue and digital I/O for Mac or Windows PCs, Prism Sound's Titan delivers sample rates of up to 192kHz via a simple USB interface. It is a popular converter among recording professionals who use external hardware devices such as Pro Tools but want easy access to Prism Sound's internationally acclaimed high quality audio. Titan offers all the award-winning features of the company's competitively priced Orpheus, but with USB connectivity and an MDIO interface expansion slot that allows for direct connection to Pro Tools|HDX systems.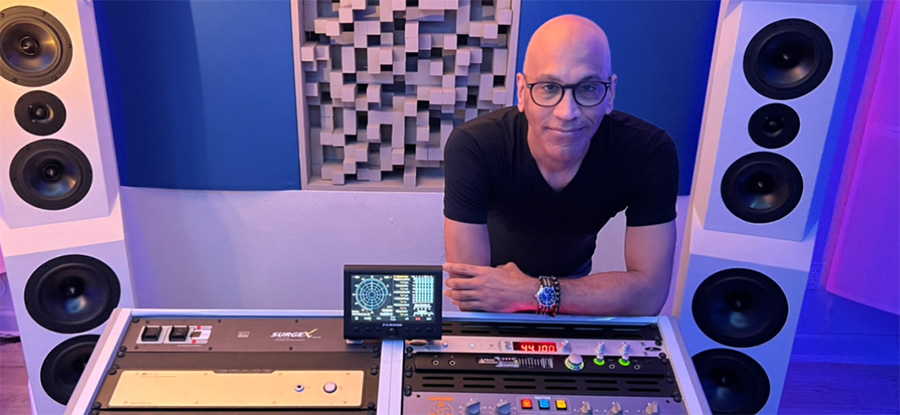 As a mastering engineer, Fragancia says his signal flow is relatively simple and mainly involved playing mixes from Pro Tools and, if necessary, manipulating them In The Box with corrective software or plugins. He then uses his Prism Sound Titan to come out of Pro Tools and into an analogue Dangerous Music Master Transfer Console.
"This connects my two compressors (Rupert Neve Portico II Master Buss Processor & Manley Vari MU) and my two Equalizers (Maselec MEA-2 & Manley Massive Passive)," he says. "Once all analogue processing is done in the analogue domain, the audio goes into the Prism Sound Titan and I clip the converter a bit hard to get the beautiful punch and loudness that Prism Sound is known for."
Fragancia completes the process by capturing everything on ProTools so that he can print WAV Masters. "At the moment I'm using ProTools Native for playback and printing but lucky for me I recently picked up a HDX PCIe card that works perfectly with the Titan's HDX card port. It's a match made in heaven," he says.
Since installing Titan, Fragancia has used it on many mastering projects, including the single El Amor es Una Moda by international Latin artists Don Omar, Alcover and Juan Magan, which was nominated for a 2021 Latin Grammy in the Best Urban Fusion Performance category.
Currently, Fragancia is working on very diverse projects across numerous genres with artists from New York, Los Angeles, Dominican Republic, Puerto Rico, Ghana, Jamaica and Canada. He is also about to add two Prism Sound Atlas converters, complete with Dante cards, to his tracking and mixing studio.
"I'm glad I decided to go with the Prism Sound Titan," he says. "It was the right choice, and I don't regret it at all."