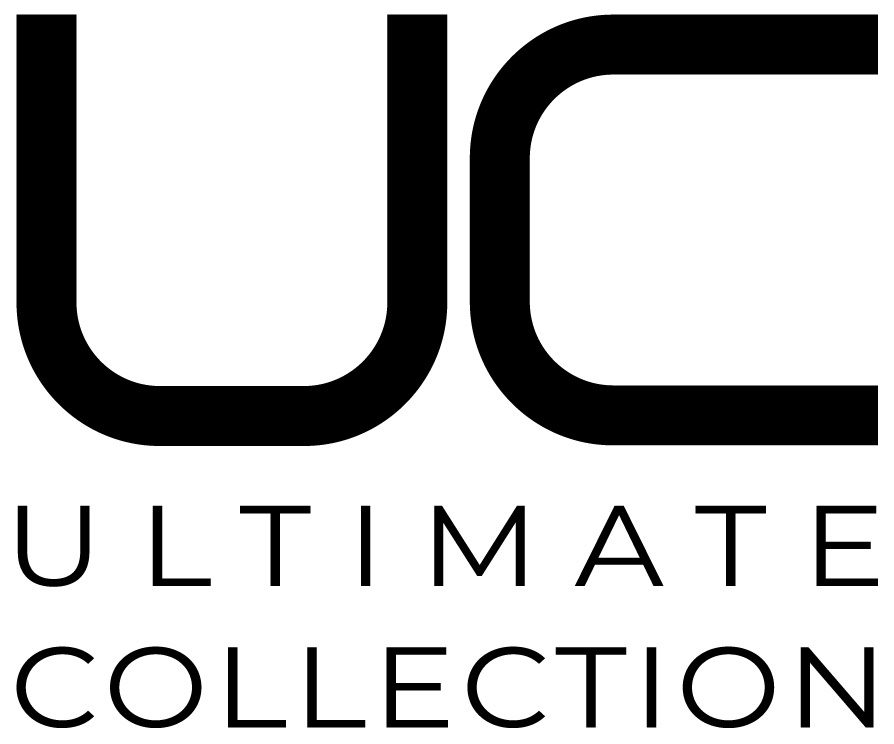 The Prism Sound Ultimate Collection is an optional bundle of products offered when purchasing a LYRA 1, LYRA 2, or TITAN interface.
Gain access to a wealth of creative, innovative, and industry-leading audio tools. Prism Sounds Ultimate Collection is valued at over $4000, and features an array of premium instruments, contemporary FX plugins, an award-winning music production focused DAW and an industry-leading mastering and edit suite.
Ultimate Collection Overview
Ultimate Collection QuickStart Guide
Ultimate Collection Software
11-Operator FM Synthesizer

F.'em is one of the most powerful FM Synthesizers ever made, taking advantage of modern CPU resources to process its freely configurable 11 operator matrix. It's a hybrid quad-timbral synthesizer that can function as an FM, VA and Sample-based instrument, with the added bonus of a dual multimode filter, a complex effect section and an incredibly flexible modulation matrix.
"F.'em takes FM synthesis to the next level. I enjoy the sonic and modulation capabilities provided in its meticulous and thoughtful design. Virtually every nook and corner has been considered with how parameters can be modulated. I look forward to creating some GNARLY bass sounds with this beast!"
STRANJAH
Metalheadz, 31 Records, Renegade Hardware, & Hospital Records.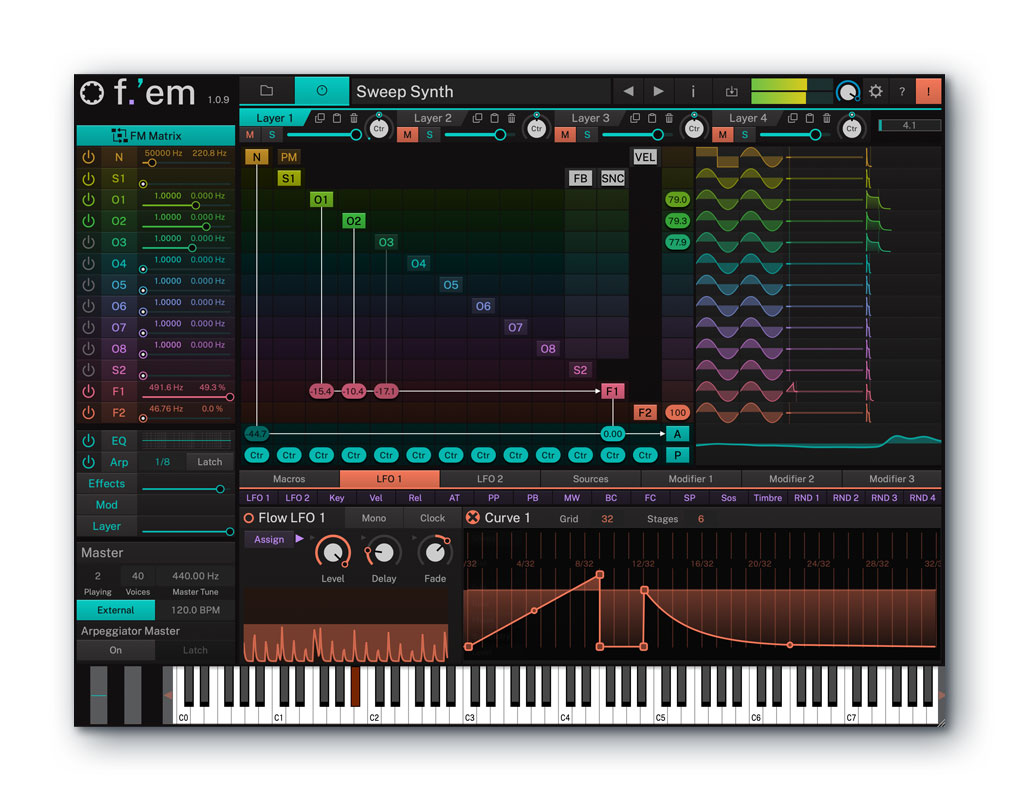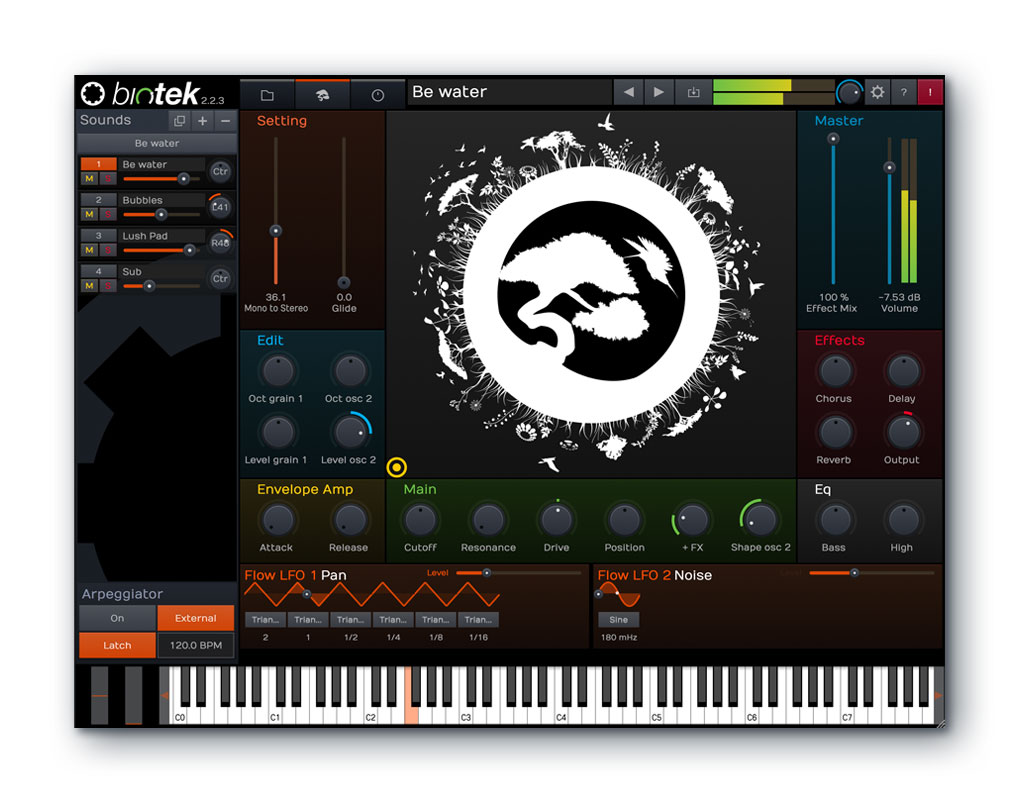 A powerhouse sampling and synthesis workstation
BioTek 2 offers boundless sound design in a unique and inspirational environment. Not only is its engine more capable than existing offerings, but the choice to use natural and environmental samples gives the instrument its unique character. Extensive modulation and modifier routes are intuitively assigned and all parameters are available for DAW automation. Dive into the weird and wonderful immersive world of BioTek.
"The new granular oscillator makes BioTek 2 a formidable weapon for film, trailer, and TV composition. This combined with the nearly endless modulation options puts its granular synthesis into a completely different league."
Jörg Hüttner
Fifty Shades of Grey / Independence Day / Total Recall.
Futuristic Virtual Synth
A futuristic synth that gives you the power to splice waveforms into aggressive new sounds. The patented oscillator design utilizes a new form of synthesis to produce biting leads, glitched-out basses, cinematic pads and everything in between.
"Waverazor's synthesis approach is very unique in that you can splice almost any combination of multi-shape waveforms, and multiply, degrade, destroy or mutate them with a wide variety of different parameters. The sounds are very organic and interesting. I honestly can say there are some sounds I created with this instrument that I have never heard before."
Richard Devine
Google / Warp Records / Schematic Records.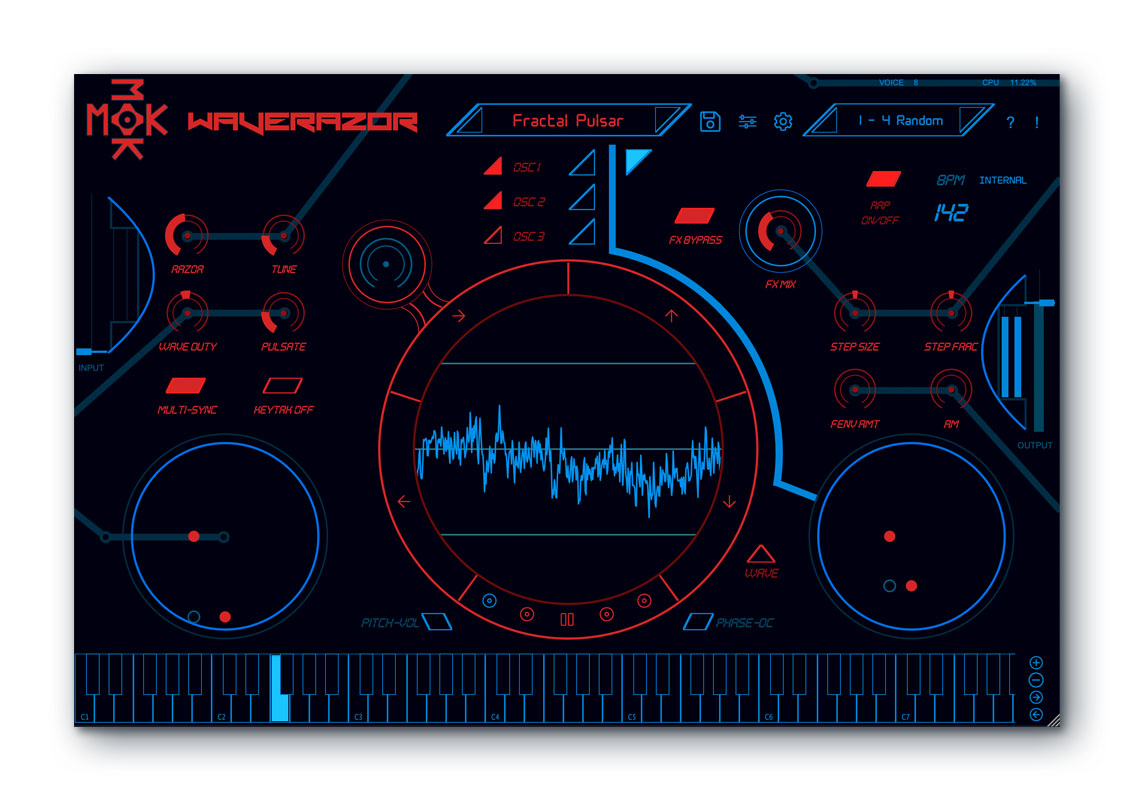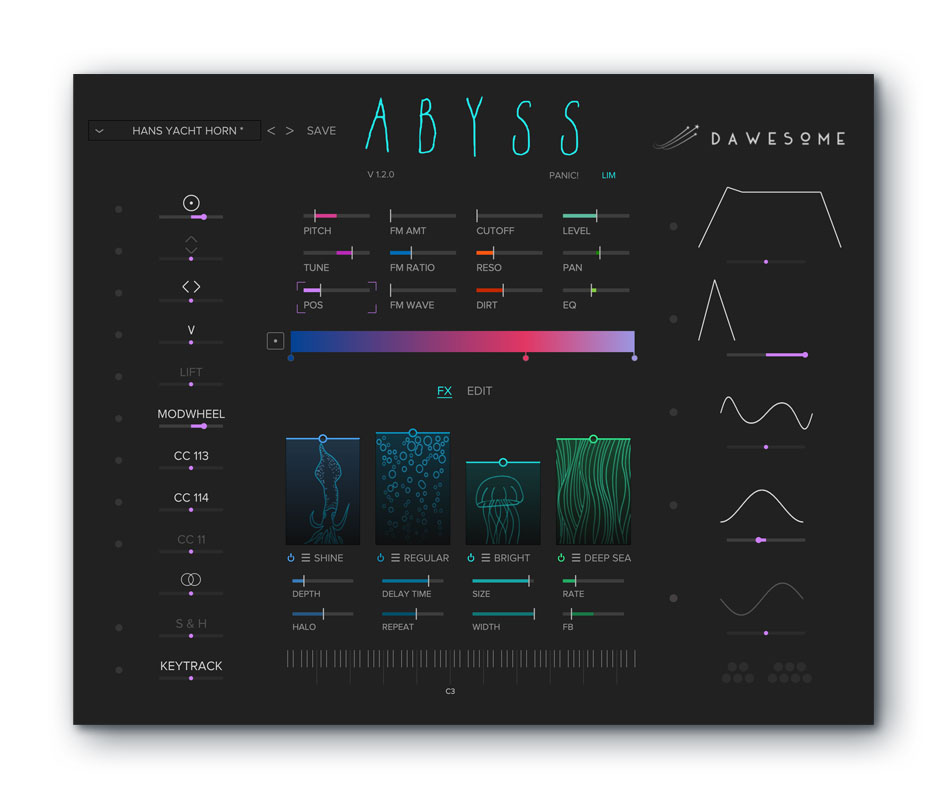 A visual synthesiser with character and a bit of fairy dust
Based on spectral synthesis, Abyss adopts a unique approach by representing sounds with colours making it intuitive and instantly inspiring. It brings to you dark, vibrating drones, vivid cinematic pads and rich evolving textures. With Abyss you find instant inspiration for your music and sound design projects.
"Abyss is super, super, super cool and super fun to mess around with – it sounds freaking phenomenal!"
Cameron
VENUS THEORY.
Multi-layer, Modular Synth
Hyperion synth has been designed from the outset with sonic flexibility in mind whilst keeping modular patching approachable and easy to follow. Efficient processing enables up to 10 layers of complex sound patches providing An unlimited sound design playground inspired by 80's legends such as Vangelis, Jean-Michel Jarre and Brian Eno. Hyperion is a contemporary digital modular masterpiece.
"Hyperion is a full-course meal of a synthesizer with an infinitely tweakable heart of modular possibility."
Sound On Sound.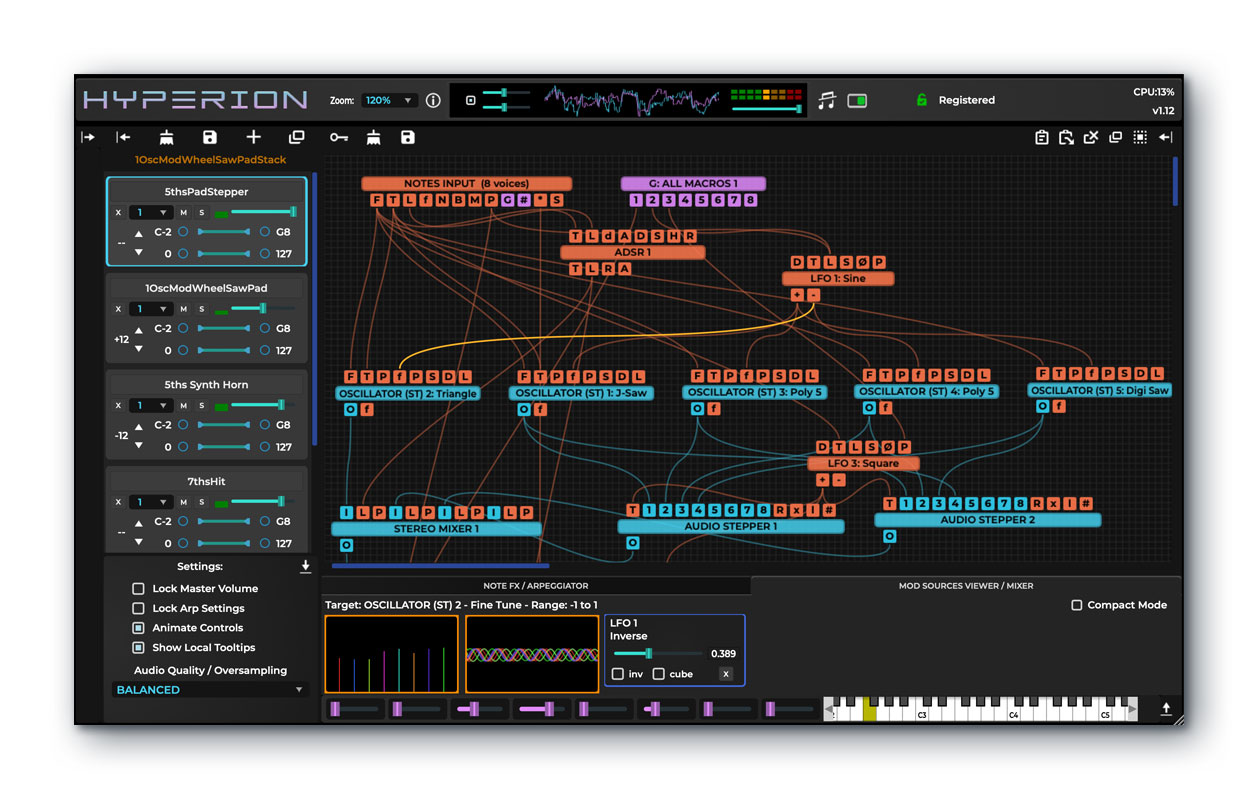 Deep granular synthesis
SpaceCraft is one of the most creative and inspiring granular synths ever made. Based on the hugely popular iOS app it's well known for providing instant gratification and stunning, unique sounds. Two parallel granular engines provide grain frequency/length control, sample position LFO, stereo reverb/filter and pitch/ring-modulation. The innovative grain pitch sequencer, MIDI / MPE and live sampling capability open up further depths of performance and expression.
"Mark Watt has blown the doors of sonic exploration wide open with his mind-expanding SpaceCraft."
Jordan Rudess
Dream Theater | Liquid Tension.
Classic Hardware Synths

The RetroMod series of instruments puts the worlds most revered hardware synthesisers at your fingertips. And as the name suggests, this is more than just a collection of sample-based imitations – the goal of this series is to capture the soul of classic hardware synthesizers and push them in new directions, creating sounds simply unachievable from the source hardware.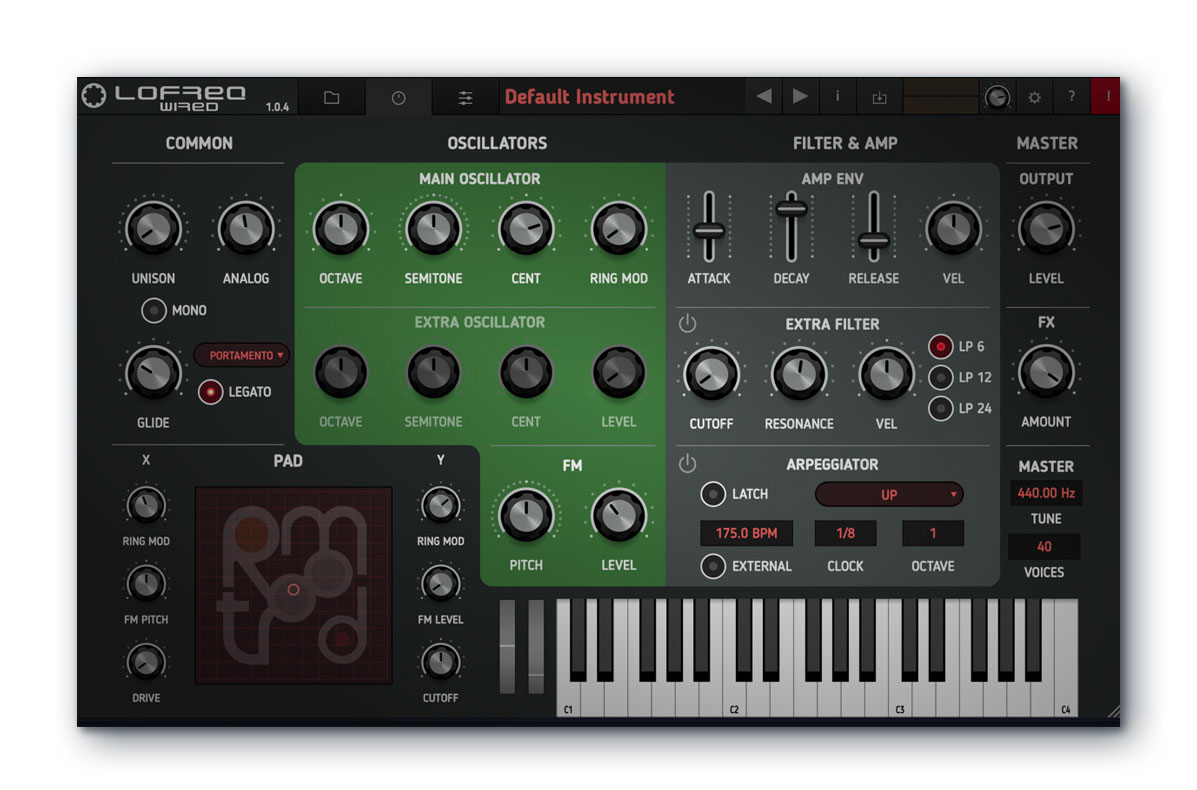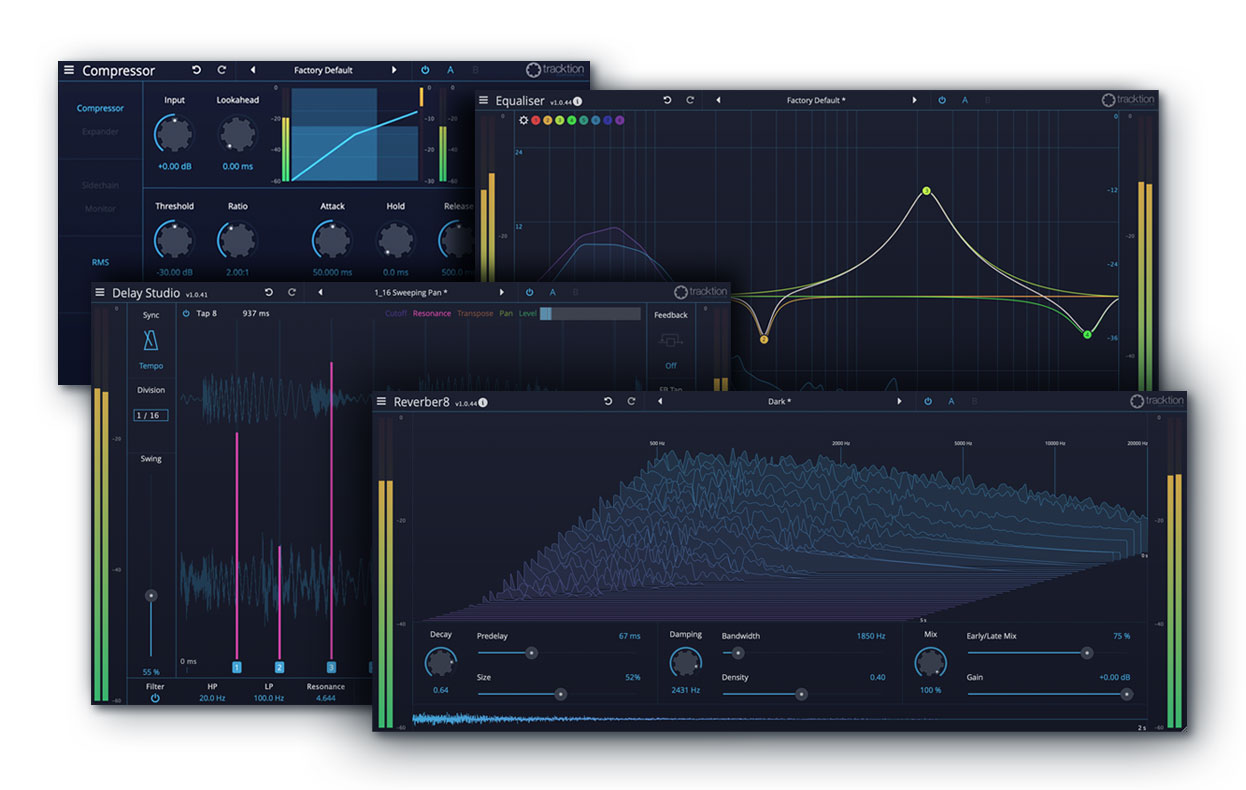 DAW Essentials Collection
16 inspiring, contemporary DSP effects
A collection of 16 contemporary FX plugins for use with any DAW. Utilizing the very latest algorithms and coding techniques, the plugins feature extraordinary sound quality in an extremely efficient package, allowing the plugins to be used liberally across a wide range of native computer systems. Empower your creativity with the DAW Essentials Collection.
"DAW Essentials is a MUST!"
Interface Magazine.
Digital Audio Workstations
The most creative, inspirational and affordable DAW ever created.
Waveform is a rapidly evolving application specifically designed for the needs of modern music producers. Specializing in creative and inspirational workflows and avoiding features not explicitly needed to allow the app to remain surprisingly fun and intuitive. While other apps try to appeal to broad user groups, for example film score, live sound, performance – Waveform is laser-focused on music production.
"Tracktion has made Waveform one of the easiest DAWs to use."
MusicTech.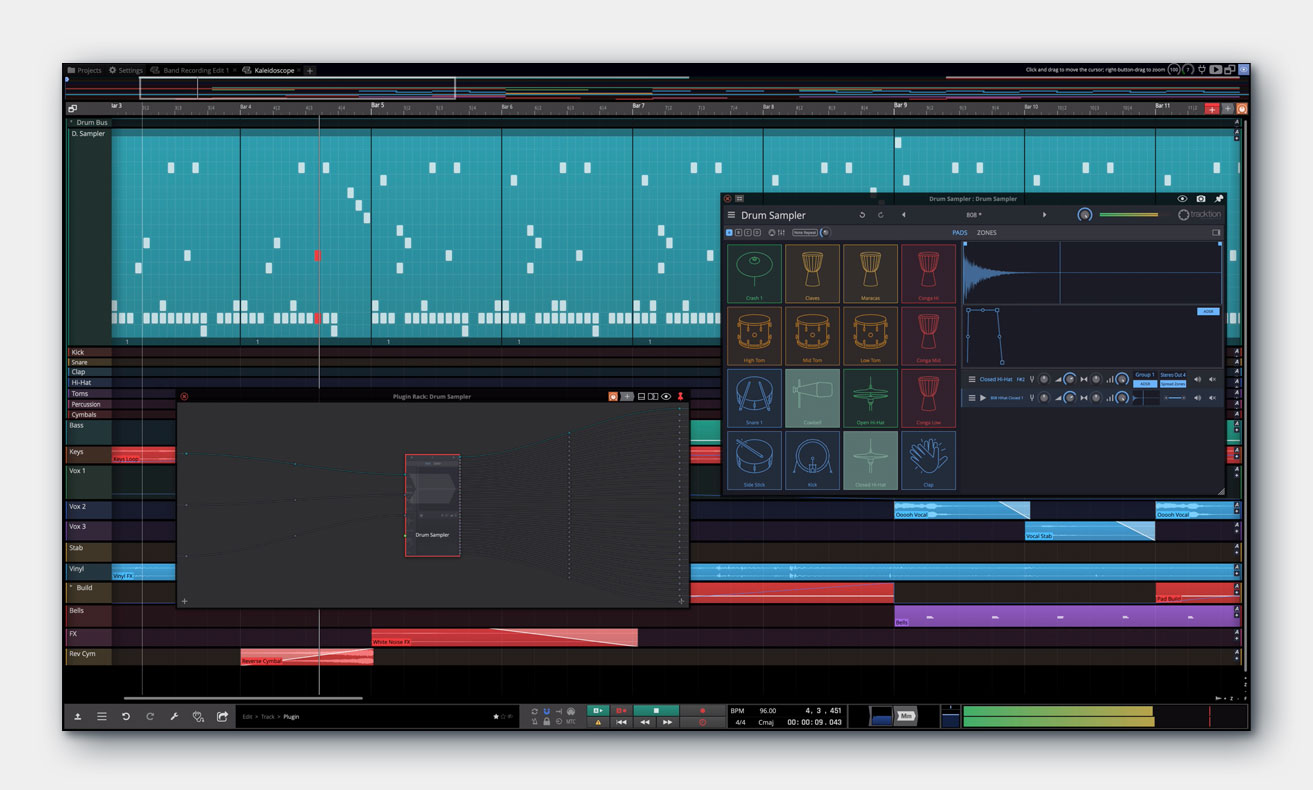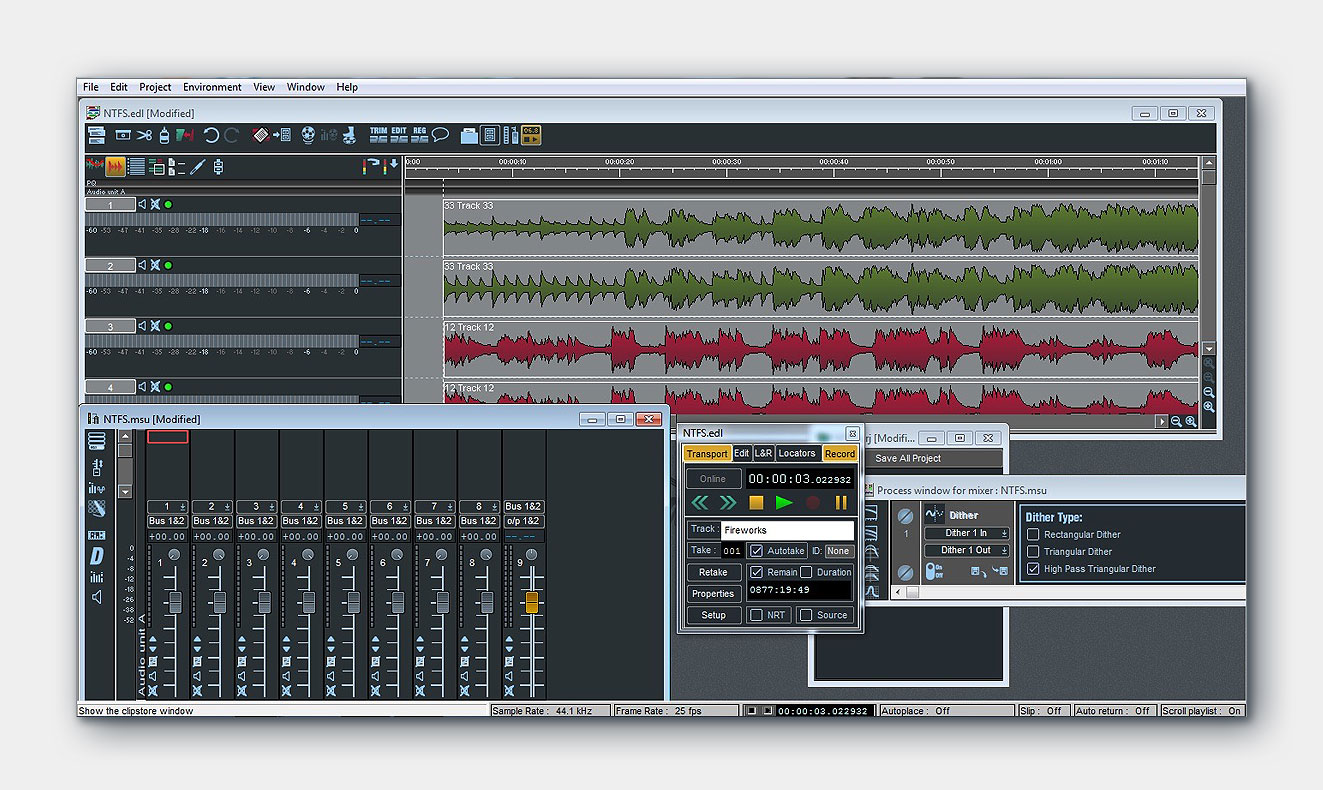 SADiE excel's in applications where only the most sophisticated recording and editing capabilities are required and where reliability and robustness are paramount.
From the mastering rooms of Abbey Road and Metropolis, recording studios of Roger Waters and edit suites of Universal and the BBC, SADiE's mission-critical tools are the choice for those who demand the best.
Prism Sound Software Control Panel
In-depth control is managed from the Prism Sound Control Panel software. This runs on the host computer and can be brought into view whenever adjustments are needed.
The upper area of the control panel shows a panel of 'Global' settings for the entire group of connected interfaces and a panel of 'Unit' settings which is assignable to each connected unit in turn, using the enclosed drop-list. These settings are concerned with general parameters such as sync source and sample rate selection, metering and buffering modes. An 'Identify' button causes all the LEDs on the selected box to light, to assist with identification in multi-unit systems. To the right, there are large buttons for loading and saving setups, and for online help.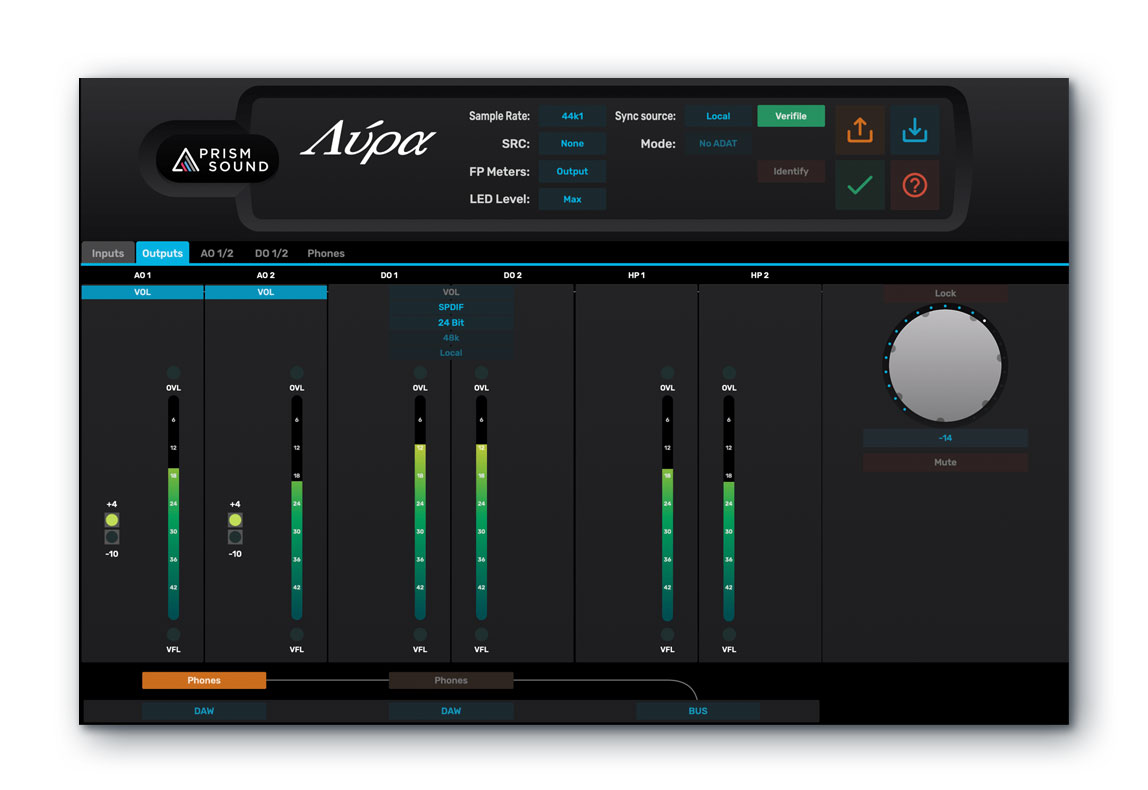 Nulla facilisis lacus non ante
Championed by Mastering Engineers, Broadcasters, Editors, and recordists alike. SADiE has long set the standards for precision recording and editing. With multiple editing paradigms at your disposal SADiEs low latency, high reliability and timesaving workflow gives you the freedom and creativity you need to excel in any audio application.

Best known for their ground-breaking DAW "Waveform", Tracktion have built a reputation for creating some of the most inspiring and musical tools around. From innovative digital audio workstations to awe inspiring granular synthesisers, their diverse range of sonic offerings have attracted the attention of industry leading sound designers, composers, and musicians alike.