November 15th 2023: By replacing two Prism Sound ADA-8XR converters with this new unit, Bernard Seidler now has less equipment to transport when he is recording music live.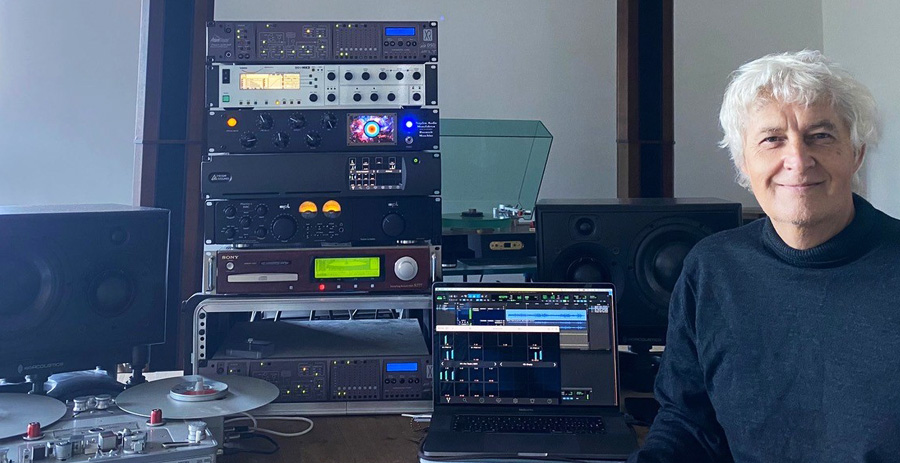 Swiss engineer and location sound recordist Bernard Seidler is a great believer in quality, both in terms of the work he produces and the tools he uses to capture sound.
"When I buy a product, I want it to last," he says. "I'm not interested in buying something that's broken or defective after a few months. Quality is very important to me from a construction and an audio point of view."
Given this stance, it is no surprise that Bernard Seidler held on to his two Prism Sound ADA-8XR converters for over 20 years and would still be using them now if he hadn't decided to upgrade to the company's new DREAM ADA-128 modular conversion system.
"Parting with my ADA-8XRs will be painful because they still work perfectly well, but after many years of loyal service it was time to look at today's converters and take advantage of developments in that field," he says. "I wanted to stick with Prism Sound because I've always appreciated the audio and build quality of its products. My new ADA-128 is really perfect and I think the same care has been taken with its construction as with the ADA-8XR."
Based near Geneva, Seidler initially followed his father into the construction industry but a love of music and a fascination with recording led him to pursue a different career.
"I was nine when I made my first recording – capturing bird song in the forest near my home using a friend's portable Philips cassette recorder," he laughs. "When I was older, I saved up enough money to buy my first tape recorder – a NAGRA IV-S with the adaptor for large reels – and a pair of Neumann KM84 microphones that are still in my vintage collection. I loved rock music but I couldn't record rock concerts with this set-up so I settled for recording choir concerts and small classical ensembles in churches where the acoustics were better suited to equipment I had."
Eventually, Seidler got a job at a local radio station and spent three years doing everything from soldering XLR plugs and making tables for the studios to recording and mixing commercials, vocal groups and local brass bands. Then he moved into television, tackling sound recording for news magazines before finally setting up his own sound recording company and working as a sound engineer for TV documentaries, music festivals and feature films. He also found time to study sound engineering at SAE in Paris and this opened up other opportunities, most notably a 20-year working relationship with Argentinian conductor Roberto Sawicki who leads the Geneva-based l'orchestre de Lancy-Genève chamber orchestra, as well as collaborations on operas at the Grand Théâtre de Genève for radio and TV, and opera recordings in Montpelier, Nantes and Athens for ARTE.
These days, Seidler mainly works in broadcast, recording audio for Télévision Suisse Romande (RTS) and for small production companies. His projects range from news to more elaborate magazine programmes and documentaries such as the programme on the life of renowned Swiss sociologist Bernard Crettaz, which he recorded for Troubadour Films, and more recently a documentary on an innovative palliative care centre run by volunteers. He also still records the l'orchestre de Lancy-Genève, capturing two or three concerts a year for release on CD and for the orchestra's website.
"For me, these projects are like research laboratories because they allow me to test new microphones, new preamplifiers or different recording techniques," he says. "My recording set up these days is designed to be portable so it can be easily transported to different venues. I have a Pro Tools HDX recorder and a selection of microphones and various preamps from Manley, Millennia and Summit, but at the heart of my set up is Prism Sound conversion – everything passes through it. I don't have a mixing console so if I need to record, the converter acts both as an AD interface to Pro Tools or other applications on my computer and as a DA to listen to the recording or mix. Without it, I couldn't do anything. It's a vital part of my system."
Seidler says he is very impressed by the design of his new ADA-128 and that it is quiet enough to have it in the same room without being disturbed.
"It is incredibly flexible, too," he says. "With 16 cards and four host cards I have many different options, plus its simplicity is another bonus – the straightforward user interface includes access via a web browser, which I really like. But the most essential elements are its reliability and its sound quality, which is beyond reproach. I'm still putting it through its paces bit I can see that the same care has been taken with its construction as with the ADA-8XRs that I've replaced. So far, everything I've heard from this unit has flattered my ears."
Designed as both a modular conversion system and a high-performance, networkable audio distribution and processing system, Prism Sound's Dream ADA-128 offers up to 128 channels of 32-bit A/D and D/A conversion at sample rates of up to 768kHz. Its flexible 2RU mainframe that can be fitted with up to 16 analogue and digital IO modules (each of which nominally provides eight input or output ports, or both). Up to four host modules provide bidirectional multi-channel connections to host computers, workstations, networks etc, with the ADA-128 providing free routing between all of these inputs and outputs under detailed user control, as well as a wide range of processing functions.
Aimed at audio professionals across many different disciplines, including music recording, Atmos mixing, postproduction, broadcast and installation, The ADA-128 is proving to be a cost-effective solution for people who require a high channel count. To put this into perspective, 128 channels of ADA-8XR conversion would cost approximately £25,000 more and take up a lot more space in a rack.
As Seidler points out, space saving matters if you are using a portable recording setup. His 32-input/16-output ADA-128 has allowed him to replace all of his ADA-8XRs and save on the purchase of racks and space for transport, not to mention a lot of effort in terms of loading and unloading.
"What's more, with the DANTE, MADI and soon to be released Mic/Line interfaces, I'll only need one rack and a few accessories when I'm on the move," he says. "The DANTE and MADI interfaces will also allow me to integrate with other systems in the future, which I couldn't do with the ADA-8XRs."
With no immediate music recording projects in the pipeline, Bernard Seidler is planning to use his Prism Sound Dream ADA-128 to digitise the extensive vinyl collection he has been building since he was in his teens.
"I'm enjoying getting to grips with the ADA-128 and seeing what it can do," he adds. "I owned ADA-8XRs for almost 20 years and they always worked perfectly despite being regularly moved around. The company's products are reliable, long-lasting tools and I have no doubt that my new Dream ADA-128 will stand me I good stead for at least another 20 years."