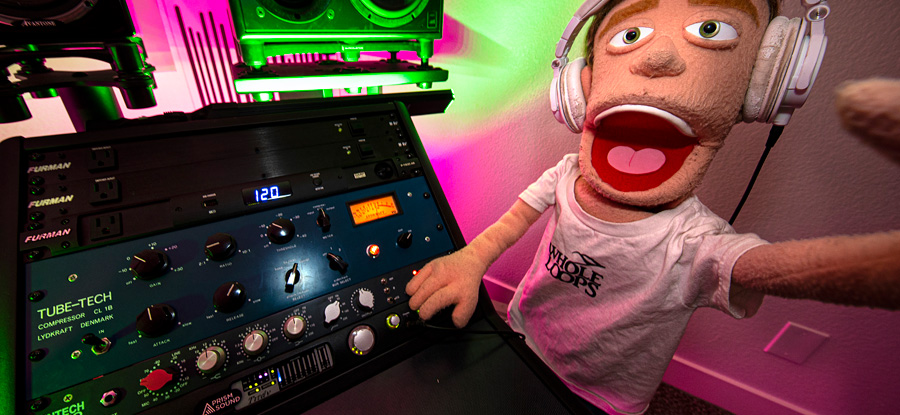 Cambridge, UK. June 16th 2022: When it comes to knowing what's new and cool in the world of music recording there is one 'person' that thousands of people turn to for advice, and that's The Realest Puppet In The Game.
Created by producer Reid Stefan, The Realest Puppet In The Game has nearly 300,000 YouTube subscribers and over 194,000 followers on Instagram. Through this compelling alter ego, Reid specializes in helping people learn the fundamentals of their music tools so that they can improve their production and engineering skills and get their music sounding even better. Although the puppet is designed to appeal to younger audiences and aspiring musicians, he is also a big hit with many major artists who are equally enthralled by his colourful stye and entertaining, easy to follow lessons.
Reid's extensive knowledge of pro audio equipment means that, when it comes to choosing gear for his own studio, he's in the ideal position to only install the best. It is therefore no surprise to learn that his most recent purchase is a multichannel Titan audio interface from Prism Sound.
Designed to offer high quality analogue and digital I/O for Mac or Windows PCs, Prism Sound's Titan delivers sample rates of up to 192kHz via a simple USB interface. With its MDIO interface expansion slot that allows for direct connection to Pro Tools|HDX systems, Titan is a popular converter among recording professionals who use external hardware devices but want easy access to Prism Sound's renowned sound quality.
Reid's decision to invest in a Titan was inspired by his mentor, the six times Grammy nominated mixing and mastering engineer Luca Pretolesi who has Prism Sound interfaces in his Studio DMI facility in Las Vegas, USA.
"I saw Luca using them and I figured they must be special if he'd got one in his desk," Reid explains. "Music sounds so natural and wide in his rooms, and even in headphones, but having used common consumer interfaces for more than 10 years, I wasn't sure if I'd ever be able to switch brands or re-think my workflow. However, I was very curious to find out good all-in-one audio interfaces really could sound, especially as my previous interface was good at everything. I wanted to see if an interface from a company like Prism Sound that specialises in input/output sound quality and conversion was any better."
Reid decided that the only way to find out was to put a Prism Sound Titan through A/B tests against his existing interfaces. He ran the test during a recording session with Karra, an artist he has been developing and producing for the last two years and whose style is a fusion of Hip Hop, EDM, and Pop.
"As I was engineering my first session with the Titan, Karra asked 'Is it just me or do the headphones and mic sound crisper than usual?'," Reid explains. "After recording, I listened through my monitors and could easily hear more stereo width, low end clarity, and tiny details that I've never heard before in my home studio. The difference was immediately noticeable. We didn't want to return the demo unit, so I got one for my studio. I should also add that the installation and setup was so easy there was almost nothing to it. Prism Sound's Audio Control app is perfectly streamlined for routing analogue hardware, controlling levels, latency free headphone monitoring, and all the essentials. It's great to record, produce and mix knowing you're capturing and monitoring everything in the highest possible quality."Originally from New Jersey, Reid is now based in Las Vegas, USA, where he records and mixes all his projects. His background in music goes back more than 10 years when he began DJ-ing and producing re-mixes to post on YouTube. As his YouTube channel grew more popular, he started writing and releasing his own music and pursuing a professional career as a music producer.
In 2014 Reid moved to Los Angeles and began working on studio sessions, producing albums and singles for EDM and Hip Hop artists such as Steve Aoki, Travis Barker, Krewella and Suicide Boyz. He also built up an enormous collection of loops, samples and other homemade pre-sets that he felt could really change the game as sample pack products. However, what he needed was a head-turning concept to get his Whole Loops sample pack brand noticed, so he came up with the idea of the puppet producer because it seemed like the perfect gimmick.
"To my surprise that initial Realest Puppet video became more popular than anything I had ever produced before in my life, so naturally I followed it up again, and again," he says. "It grew to the point where The Realest Puppet became more famous than my entire life's body of work, and I decided to go all-in and give the people more of what they wanted to see with weekly tutorials on YouTube and daily Instagram posts."
Luca Pretolesi was among many music industry figures who noticed the cute little puppet with the encyclopaedic knowledge of pro audio techniques. Reid was thrilled when Luca started following him on Instagram and, when the two finally met, they decided to collaborate on MyMixLab.com – an online tutorial website that runs weekly mixing and mastering tutorials. The Realest Puppet is one of the website's tutors. Others include Luca, Jon Kong, Scott Banks, Maarten Vorwerk and Henry Fong.
"Meeting Luca and setting up MyMixLab was the reason why I moved to Las Vegas," Reid explains. "I have now set up a home studio where I produce, mix and record. Vocal production is my main focus and my vocal chain includes a Sony C-800g microphone, a Vintech x73 Preamp/EQ, a TubeTech CL1B compressor and a pair of ATC monitors. The Prism Sound Titan is now the centrepiece that connects everything to my Mac Pro. I like to record in Pro Tools and produce beats in Ableton. I'm already so heavily invested in my hardware vocal chain, acoustic treatment and monitor that it makes sense to capture everything with the best possible A/D converters. I'm also excited to use my Titan for upcoming Whole Loops sample packs. Having the ability to send my recordings through analogue gear from Ableton is going to make my next collection of drum kits sounding better than ever before."
As well as his teaching videos, Reid is also working on various projects with Karra and together they are releasing a new single nearly every month, along with self produced music videos and social media content.
"Fans really enjoy watching the day-to-day life of independent artists and producers, so we have been completely focused on growing her artist brand," he says.
Fans also like watching The Realest Puppet In The Game whose following continues to grow with every tutorial Reid releases. The best way to find these little gems is via Reid's YouTube page which is linked here: YouTube