Cambridge, UK: February 22nd 2021: James High, Marketing Specialist and sound designer for synthesiser manufacturer Modal Electronics, has made a Prism Sound Titan audio interface the centrepiece of his recording studio because he is so impressed with the audio quality it delivers.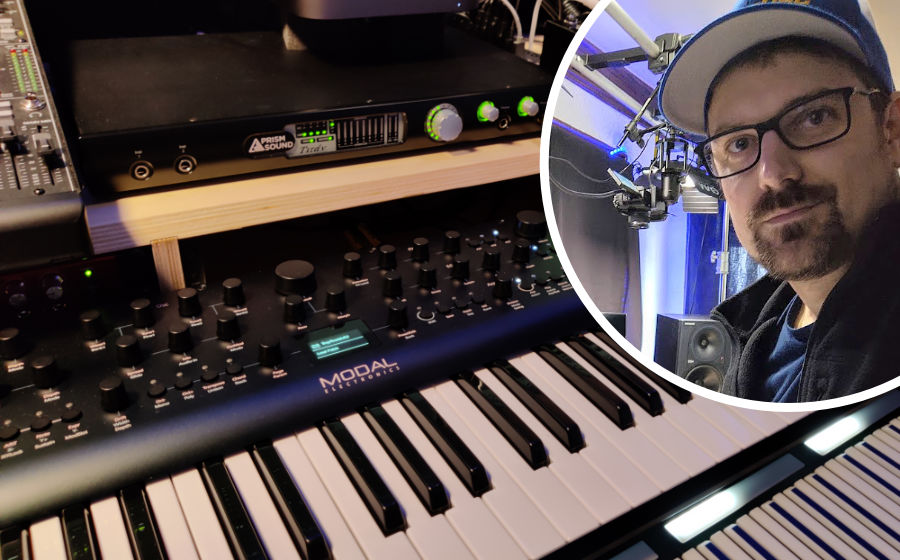 A self-confessed synth nerd, James has a studio at his home in the USA, and it is from here that he produces engaging video content around Modal technology and helps to design factory pre-sets for all of Modal's upcoming synthesisers. The Prism Sound Titan is a recent addition to his equipment line-up, which also includes a Mackie VLZ4 1604 mixer.
"I had no idea how good Titan was until I got one into my studio," James explains. "I've always wanted a Prism Sound audio interface, ever since I saw an advertisement in Sound on Sound showing Joel Zimmerman (aka deadmau5) holding up an Orpheus and cradling it like a baby. I was sold right there because Joel is someone I've always looked up to. All the reviews I read about Prism Sound products agree that they are unsurpassed, but once I learned more about the company and its expertise in converters, especially clocking, buying a Prism Sound unit made even more sense and I couldn't be happier with the results I am achieving."
Based in Milwaukee, Wisconsin, James has been producing and writing music for many years using either Ableton, Logic or Bitwig software. Until recently he ran a website called MajorOSC that sold pre-sets for various hardware synths, operating this alongside his day job in an office. But in 2020, when he was made redundant as a result of the Covid-19 pandemic, he decided the time was right to pursue his musical ambitions.
"I was miserable in an office and I saw redundancy as an opportunity to make one last big push for a career change," he says. "It was a huge risk but I needed to see if I could create something full time from the sound design, music production and branding work that I really enjoyed."
Luckily for James, UK manufacturer Modal spotted his website thanks to a pre-set bank he designed for the company's ARGON8 synthesiser. Released in 2019, ARGON8 synthesisers aim to deliver sounds that cut through the mix and are immediately recognisable as Modal. The company itself is relatively new, having been established in 2013 to recreate the innovative spirit and excitement of old school vintage synths. It's first product, the poly digital/analogue hybrid Modal 002, put Modal on the map by re-imagining what a synthesiser should be. With its transistor ladder filter, 10,000 patch memories and Ethernet connection to an integrated webserver where all parameters could be edited, it was the first non-workstation synthesiser to feature a full-colour display and support high-res 192kHz/24bit digital audio output over USB.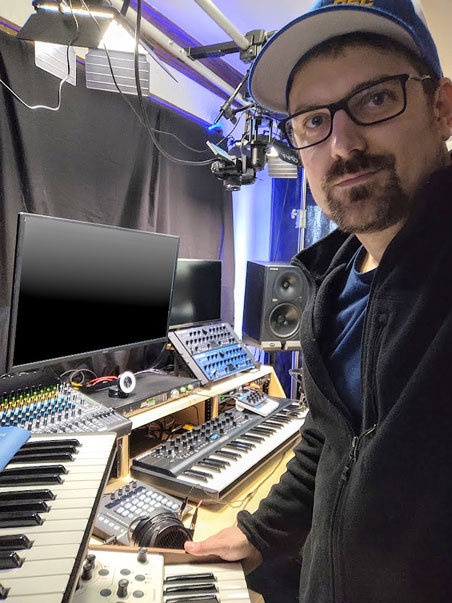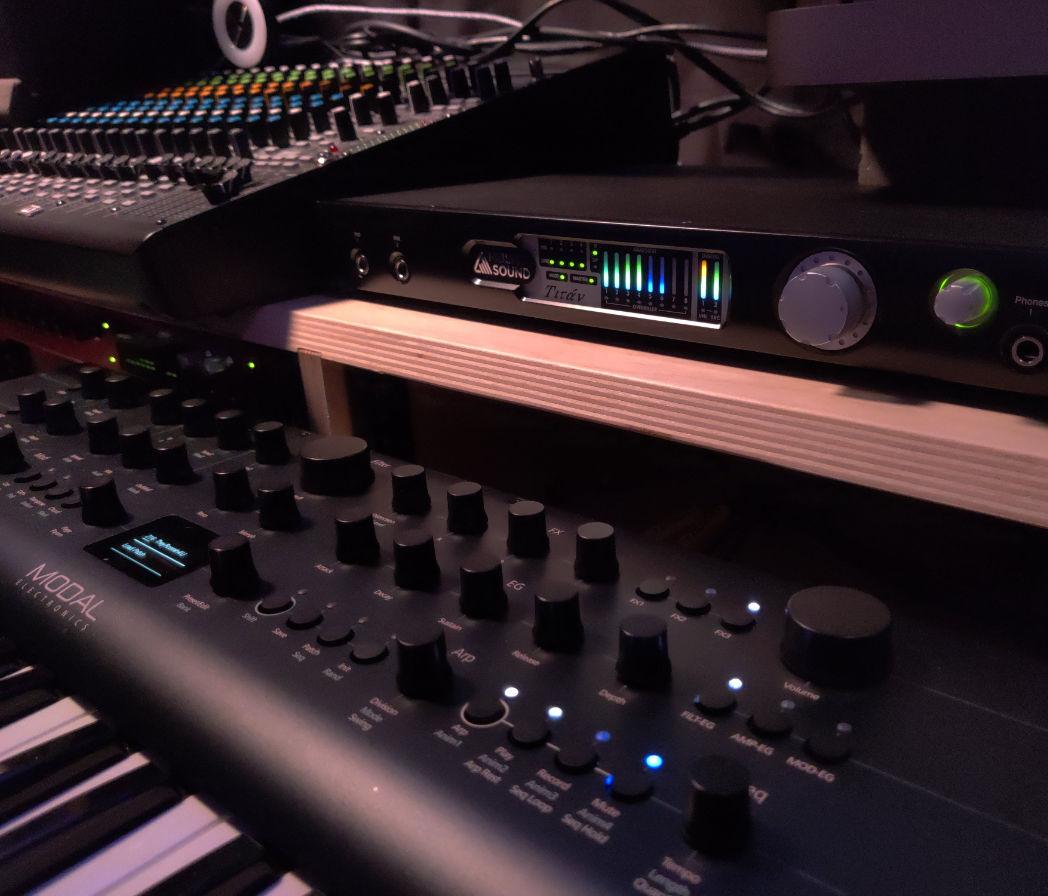 "The pre-set bank I designed for the ARGON8 gave me a foot in the door with Modal," James says. "They offered me a contract to help design factory pre-sets for the COBALT8, which they were just about to release. They also asked me to put together some 30 second demo songs of COBALT8 for use in a video commercial, so I created a backing track."
Reviewers and the public were highly complementary about the sound of the pre-sets, while the company was equally delighted with James' sound production work. A month or so after the product's release, James was offered a contracting role and permanent job and is now a key part of the Modal team and works closely with other sound designers including AlphaCodeSynth.
"AlphaCode is a great sound designer and we've become good friends," James says. "We are both highly competitive and are constantly one-upping each other, which has resulted in some of the best sounds I've ever heard. After the success of COBALT8, he and I are very excited about collaborating again on future projects with Modal, which in itself is a very cool and unique company."
Having access to the highest quality audio conversion is key to James' sound design work and this is why he wanted a Prism Sound unit for his own studio. After researching various units he chose a Titan multitrack interface with a built-in digital mixer that can be configured to provide a range of ultra low latency feeds, including stereo and surround outputs. Titan's flexible expansion path and connectivity to a wide range of computers via a standard USB connection was also appealing, along with the option of adding ProTools HDX and Dante modules if he ever needed them in the future.
"When I got the unit it did take a while to warm up to the control software, but once I was familiar with it I loved it," James says. "It is very quick, very easy and I keep it running on my Mac at all times.
"Over the years I've noticed that, with other interfaces, there is always a drastic difference between live monitoring a synth on the interface and listening to it after I've recorded it. Something gets lost in the conversion and it sounds flattened and bland, as though it has lost all its energy. But when I recorded with Titan, the first thing I noticed was the quality I was getting out of the A/D converters. It was unbelievable. It's the first time I've ever used an interface where there was no discernible difference between live monitoring and the recorded end result. I cannot begin to stress just how good things sound going through this interface."
In his studio James is bringing all the hardware synths into his Mackie mixer and putting 8 channels post EQ/Fader into the Titan's 8 inputs. He then loops back via S/PDIF to capture audio directly from the synths or, if necessary, from the DAW output
"Recording on the Titan is very low latency and it's rock solid on a Mac," he adds. "Getting results is easy. Sound Design is often done with live monitoring engaged but recording the sounds at the highest possible quality ensures Modal synths sound their absolute best at all times, in any of our videos and sound demos."